Prayagraj or Allahabad is the 13th most populous city of India and is situated in Uttar Pradesh. Prayagraj is known as India's oldest city, often referred to as the "king of all Tirthas".
it is mentioned as Prayag or tirthraj in forgone scriptures and is regarded as the religious excursion centre of India. Prayagraj is a venerable city with reference to pilgrims, River Ganga Yamuna Sangam, and cuisine. Prayagraj is the place where Kumbh is held every 6 years and mahakumbh in every 12 years. In this article, we are taking you to the famous food of Prayagraj that will make your mouth water.
Kachori Sabzi
Lassi
Kali Gajar ka Halwa
Rasgulle
Paan
Biryani
Chaat

1. Kachori Sabzi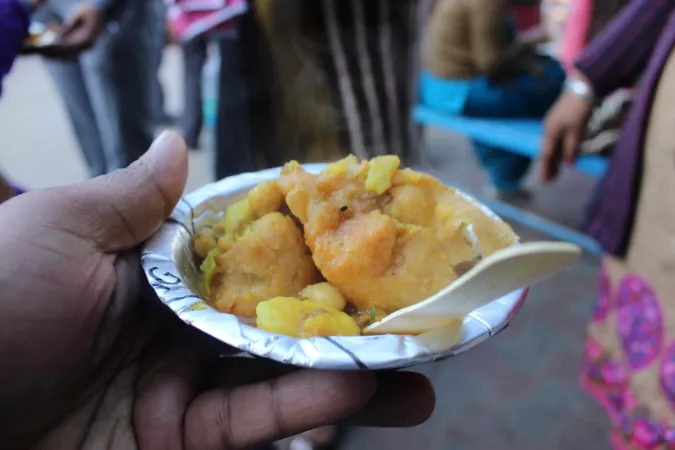 Kachori is an ancient Indian origin dish. The earlier recipe of kachori is mentioned in Sushruta Sanhita it is described as a deep-fried pastry which is made from flour and jaggery and then it is stuffed with Spicy moong dal and also from meat In 7th-century Jain scripture describes another dish with name kacchari which is stuffed with legumes.

Kota Kachori from Rajasthan, Mawa Kachori of Jodhpur, mung Daal Kachori of Gujarat and khasta kachori from Delhi are some best variants of kachori in India.
Besides all these kachoris, kachori sabzi holds a prominent role in Uttar Pradesh's Prayagraj. This kachori is served with sabzi yes you heard it right. Being an Indian we all know that kachori is served with that laal or green chutney with spicy meethi chutney on it, But in Prayagraj things are different and the kachori is too.

This flaky kachori has 2 layers outer layer is made of all-purpose flour mixed with carom (like other kachoris) and stuffed with spicy aloo with earthy ingredients deep fried at medium flame until its colour turns golden.

This banarasi kachori is served with hot sabzi which is made of chickpeas and potatoes along with green chutney and tamarind chutney. In Prayagraj you will find a kachori sabzi shop on every corner as it is famous food of Prayagraj.
One thing that can be seen in Banaras is that banarasi people are fond of eating spicy and tangy food. There are several shops where you will find customers queued up outside the shops just for having kachori sabzi.
Best restaurants in Prayagraj for getting the lip-smacking kachori sabzi
Gauri Shankar Kachori wale
Gauri Shankar kachori wale, this shop has proven its name by maintaining the legacy of kachori sabzi in Banaras. And today the fourth generation of his family is serving the best melt-in-mouth kachori sabzi in Prayagraj. It's been 100 years of this shop but the taste of kachori sabzi has never changed.
Location - CK 39/73, Godowila Road, Govindpura, Prayagraj, Uttar Pradesh 221001
Chachi ki Dukaan
This shop was established in 1915 by a woman who was famous for her gaali(abusive words) and kachori sabzi, jalebi. Chachi ki Dukan is famous all over Prayagraj, even you can get there by just asking the name of Chachi ki dukaan. It is adorable to see the family tradition maintained with the same flavour and taste.
Location - Sankat Mochan Road, Saket Nagar Colony, Lanka, Prayagraj, Uttar Pradesh 221005
2. Lassi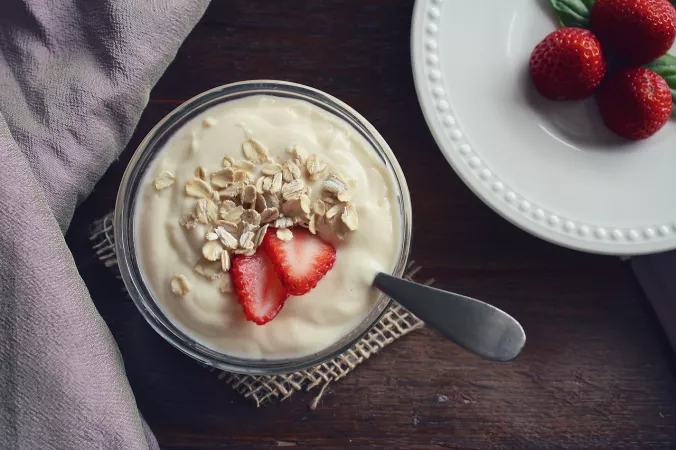 No one can deny the fact that the whole population of India has different food choices and not only the states but people residing in different regions of India have their own food choices. Prayagraj is considered the food capital of Uttar Pradesh.
Lassi is considered the ancient smoothie of the world. lassi has healing and medicinal properties that are beneficial for the stomach, lubrication of the intestine etc. Lassi is full of calcium that helps to maintain bone structure, and enhance dental health. It is considered the best smoothie for bloating and constipation. It is usually consumed in the south Asian region. The Sanskrit word lasika which means serous or saliva is the origin of lassi. It is contemplated that the origin of lassi is Punjab.

With fine fruits and pure spices, lassi originated around 1000 BC. Well, the health advantages of lassi are undeniable as it is the best drink for the digestive system. Blending yoghurt with sugar and water is the procedure for making lassi.
There are some variations in lassi that as sweet lassi, salted lassi and bhang lassi. Sweet lassi is made of sugar, yoghurt and fruits like strawberry, mango and saffron is also added to this lassi. The common lassi which is taken in India is salted lassi made of salt, yoghurt and water.
This salted lassi is renounced as namkeen lassis in Pakistan. And bhang lassi is also famous in India which contains bhang in it and is usually taken on the holi festival.
There are so many shops of lassi in Prayagraj. And you'll find lassi at every corner of Banaras as it is the speciality of Prayagraj.
Places where you can wolf down the best lassi in Prayagraj
Rajaram lassi wale
This shop has maintained the class of lassi in Prayagraj. Raja ram lassi wale shop is a 120-year-old shop. One must go there to have the taste of classy and tangy lassi. At this shop, lassi is served in kullad.
Location - raja ram lassi wale Loknath chowk, Prayagraj
Pehalwan lassi-
The third generation of this family is serving the best lassi in the town. They offer dahi lassi in all seasons. There is a special smoothie too that is doodh malaiyo sold from November to March only in the winter season.
Location - pandit Madan Mohan malviya rd, Ravidas Gate, Saket Nagar Colony, Lanka, Prayagraj.

3.Kali Gajar ka Halwa

let's come to another famous food of Prayagraj that is Kali Gajar Ka Halwa before going on to the Kali Gajar Ka Halwa, let's discuss the origin of gajar ka halwa, Gajar Ka Halwa was firstly introduced in the Mughal Era where halwa word is taken from the Arabian word halwa which means is sweet or sugar. The gajar ka halwa is firmly related to Punjab but it is not clear how it was invented .it is made from sugar milk, carrots and butter with Shuddh Desi Ghee.

There is a saying that in the era of Mohabbat Bin Tughlaq in the 13th to 16th century this halwa has come to Delhi saltnat and after that, it spread to all over India there are so many variants of gajar ka halwa which is carrot papaya halwa, carrot and beetroot halwa, cheese Gajar Ka Halwa, Khajur Gajar Ka Halwa these are some variants of gajar ka halwa depends on the regional areas.
The recipe of making a Kali gajar ka halwa is same as the normal Gajar Ka Halwa, first of all, it is peeled, grated and after that, it is mixed with the milk and dry fruits on the pressure cooker.
Kali Gajar ka halwa is so prominent in Uttar Pradesh it has become the heart of Prayagraj there are very few places where we can get the Kali Gajar Ka Halwa. Black carrot is unique and is available only in the winter season there are only a few places where you can get the best Kali Gajar Ka Halwa in Prayagraj
Nirala mishthan bhandar
Nirala mishthan Bhandar is a very famous shop in the Loknath Bazar which is famous for its Kali Gajar Ka Halwa there are very few shops in Allahabad that make Kali Gajar Ka Halwa and Nirala mishthan Bhandar has proved their name by maintaining the best taste of Kali Gajar Ka Halwa in Prayagraj
Location - 60-B, Loknath chowk, prayagraj, Uttar Pradesh, India
4. Rasgulle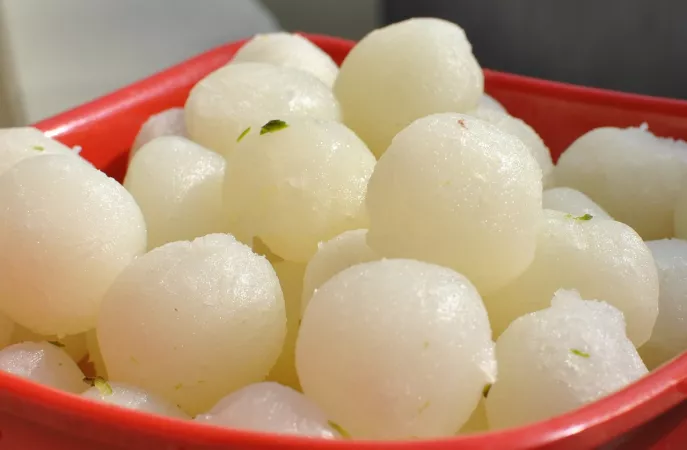 Rasgulla is a syrupy dessert which is popular in the west Bengal region of India. It is said that Rasgulla was offered to Mahalaxmi by the lord Jagannath in a ritual which is called nildri. It is said that it is also offered at the Puri Jagannath Temple. In the 15th century, the Rasgulla was one of the offerings of Lord Jagannath it is also said that the spongy Rasgulla is developed by the Kolkata-based confectioner whose name was noben Chandra Das in Bengal in 1868.

Rasgulla is eaten all over India and not only in India it is famous in Pakistan, Bangladesh and as well as south Asian countries. In Nepal, Rasgulla is also popular. Besides Bengali rasgulla, the Rasgulla which is sold in Prayagraj has its class as it is claimed to be the best rasgulla in Prayagraj. Places where you can wolf down the best rasgulla in Prayagraj
Ganga sangar sweets
Ganga Sagar sweets have become a brand name for all sweet lovers. And here you can get sugar-free sweets too. It is the most famous and old sweet shop in the prayagraj.
Location - fort road near mansha Devi temple, near ram Nagar fort, ram Nagar, Prayagraj, Uttar Pradesh
Ksheer Sagar
This shop is one of the oldest sweet shops in Varanasi and is famous for its variety of sweets. They offer various kinds of flavoured rasgulla in their shop.
Location - ksheer Sagar, mahnoorganj, Prayagraj, Uttar Pradesh

5. Paan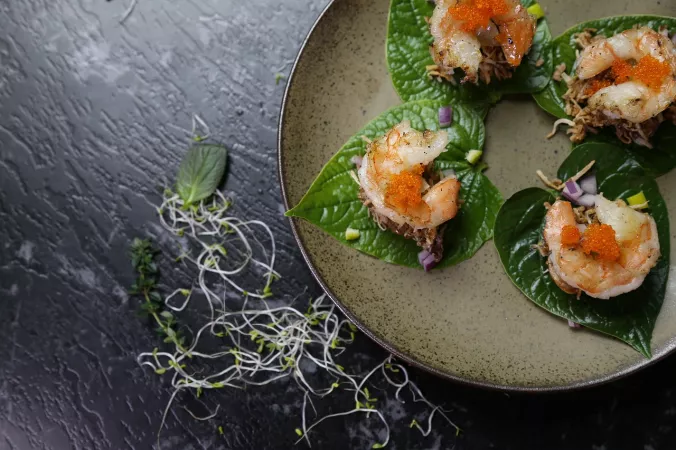 You can relate the popularity of paan in prayagraj to the song "khaike paan banaras wala".When Mr Bachchan said "Khaike Paan Banaras Wala" This phrase explained the popularity of Paan in Banaras so your Prayagraj visit is incomplete without the taste of paan. Before going too Deep let's discuss the origin of Paan. Paan is known as betel leaves which are taken in many Southeast Asian countries along with India. Betel leaf is taken with coconut, dates, menthol, and Saffron and there are so many substances that are part of it.

It is said that Betel chewing was coming from the Philippines where it started and after that, it spreads to other countries. Ibn battuta mentioned betel leaves in his scripture. It has great health benefits and it is a narcotic which gives the feeling of freshness same as the coffee. Not only in India but is also popular in Micronesia, Myanmar, Nepal, Pakistan, Philippines, Taiwan and Vietnam. In India, no one can take the place of banarasi paan. All those who come to Prayagraj Paan must thing to take it here.
Places where you can get the lip-smacking banarasi paan
Ramchandra chaurasia Tambul Bhandar
This shop offers the best plan in Prayagraj, there is no comparison to this betel envelope the filling melts in your mouth and you'll get lost in the taste of this paan.
Location - CK 19/16 A RB collection Pvt ltd, Ash Bario, North Chowk, Varanasi, Uttar Pradesh 221001
Keshav paan bhandar
After having a taste of this paan you won't need any other paan. Its wonderful stuffing and delicious taste will make you fall in love with it.
Location - Swastik Plaza, Road Anand Bagh Lanka Varanasi 221005
6. Biryani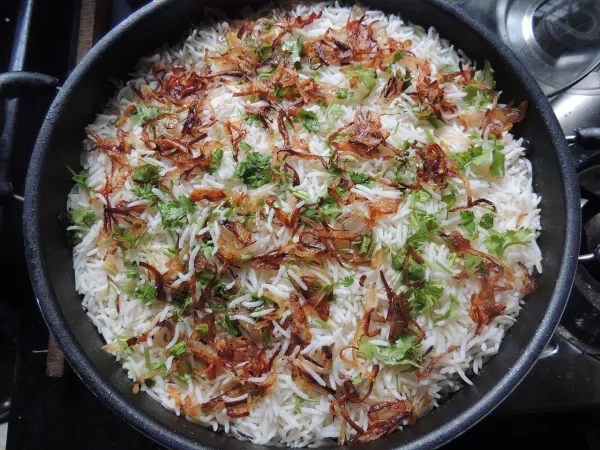 There is a saying that biryani doesn't go to the stomach it goes to the soul. Biryani is made of rice and usually meat of chicken, and goat are the main ingredient of biryani. Biryani is made of Indian spices usually mixed with some type of meat in it. biryani is so popular in south Asia and it is considered the most delicious and famous food in India.
It is also famous in Iraq, and Thailand there are several varieties of biryani which depend on the regional area there is a saying that Biryani originated from the word Brijin this is a Persian word for rice and biryani is derived from the word brijin.
There are huge varieties of biryani all over India. Ambur biryani is famous in the northeastern part of Tamil Nadu which has a high Muslim population, bhatkali biryani is famous in Karnataka, bohri biryani in Karachi and Chettinad biryani in Tamil Nadu. Rice and meat is the main ingredient of all these biryanis.
Best restaurants for getting mouth-watering biryani in Prayagraj
Zeenat restaurant
This place is not so fancy but the taste of biryani has made this place far more stunning than any other restaurant in Prayagraj. You can expect the tastiest biryani here.
Location - S13/67,Near Mari Mandir, Teliyabg, Prayagraj, Uttar Pradesh 221002
Pehlwan biryani centre
It is located 1.5 km from the Banaras ghat. If you love to eat spicy biryani then this place is for you.
Location - Pehlwan biryani centre Bhelpur, Prayagraj, India

7. Chaat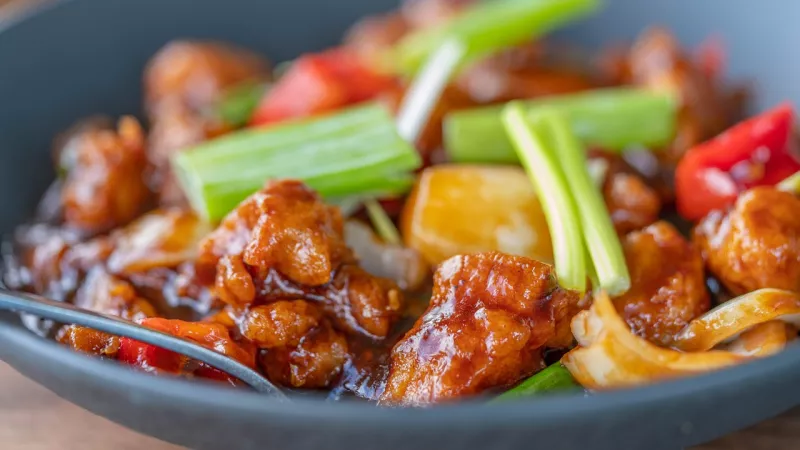 The life of a foodie is incomplete without the delicious taste of Spicy and Tangy taste of chaat. Chaat is eaten all over India, especially in the region or states like Odisha, West Bengal, Madhya Pradesh and Uttar Pradesh. It is also eaten in South Asian countries like Pakistan, Nepal and Bangladesh the earlier mention of chaat is founded in the era of the Mughal emperor in the 17th century in Northern India.
There are several types of chaat present in India but most of the chaat originated from Uttar Pradesh now it is eaten all across South Asia. There are several types of chaat like Aloo Chaat, aloo tikki, bhelpuri, Dahi Puri chaat, Pani puri, chaat masala, Samosa chaat, chana chaat, paneer chat, Dhakaa chaat, katori chaat and many more. As Uttar Pradesh is famous for different types of chaat Prayagraj too has some famous shops for chaat where you can get the world's best chaat.
Kashi Chaat Bhandar
Kashi chaat bhandar is a small shop but well-known among the people of prayagraj for making the best chaat in the whole of Uttar Pradesh. People wait in line to get a different types of chaats. There is not much space inside the shop as it is a small shop but people enjoy the taste of chaat by standing outside the shop.
Location -godowlia chowk (between crossroads and church)prayagraj, Uttar Pradesh
Ram bhandar
Ram bhandar is famous for serving the best-ever chaat and kachori in the town. The best time to come here is to come in the early morning by having a good breakfast you will be able to enjoy your full day.
Location- C.K. 15/29, Katra Ratan Lal, Thateri bazar

Best places to visit in India by month
Explore best popular
Tour Packages