Weddings in India are not only time-consuming but also expensive. The bride or groom witnesses the most during the five-day affair, from attending guests to making everything dreamy for the big day.
Well, a Honeymoon should be planned immediately after the event to allow for the necessary relaxation and escape to a peaceful location. Not to mention that the vast majority of Indian couples prefer to plan their honeymoon destination on a tight budget. Here are some places that are both affordable and will allow you to have the most enjoyable honeymoon possible.
1. Vietnam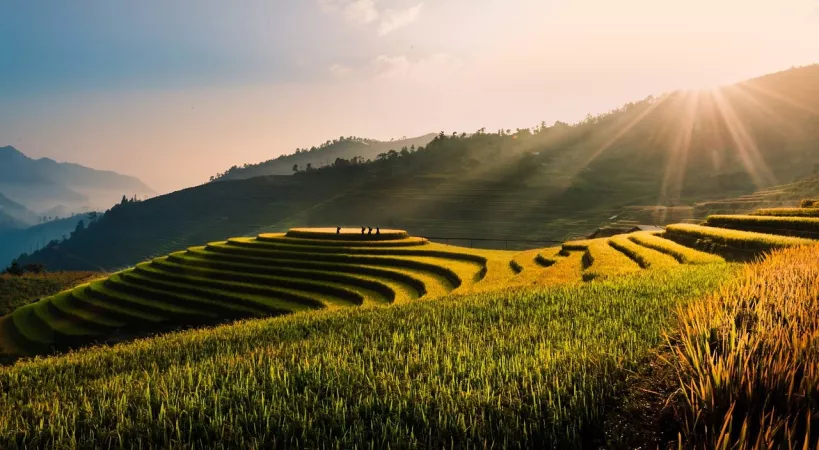 European countries describe themselves as the one of the best Honeymoon destinations in the world, However, many are aware that Asian countries have some exotic locations that are also well within their dream budget. Vietnam is one such place to hook up with. With colonial structures, inviting historical glimpses, and mesmerising beauty, that is what describes Vietnam. Not to forget, the street food in Vietnam is to die for. The following are some of the details which will prove why Vietnam is considered the best honeymoon destination.

Duration- Roughly 5 to 7 days will do.

Budget- Anywhere in between 70,000 INR to 1 lac

Places to visit- Vietnam is a popular destination for romantic getaways in Asia. Apart from its rich cultural and heritage significance, the rice fields, grasslands, and beautiful valley are so dreamy and inviting. Arrive in Dalat, a beautiful valley known for its perpetual spring. The atmosphere of the location will instantly relax you. The pine forest and mountains add to the allure. Sapa, the next beautiful valley, is known for its picturesque rice field terrain and beautiful streams. Con Dao is another popular honeymoon destination in Vietnam, as well as one of the most beautiful places in the country. It is located in the South China Sea. Tourists are drawn to the turquoise water, golden sand beaches, mangrove forests, and coral reefs. Another breath-taking island is Halong Bay, where the couple will fall in love all over again. Don't forget to check out the hilly terrain and cave camping, which are two of the most appealing things to get endorsed with.

Honeymoon Theme –
Cultural
Relaxing
Adventurous
2. Sri Lanka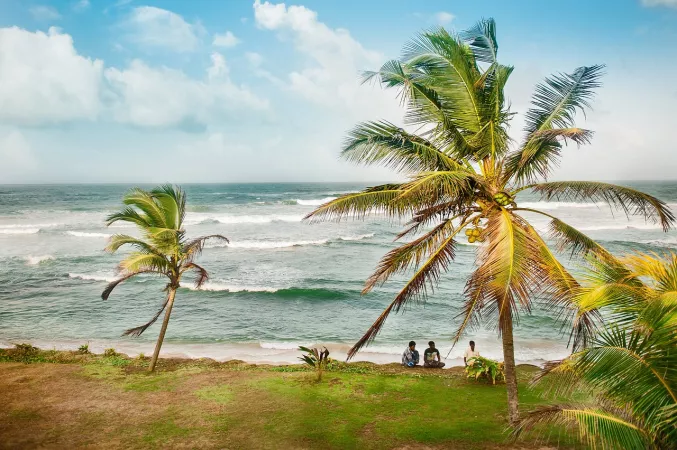 The neighbouring country is one of the best places for honeymoons. This exotic island is just a myriad of experiences away from the top of the subcontinent. Surrounded by water bodies and lush greenery in almost all parts of the country, Sri Lanka is one of the best places you can afford within 1 lac. Its cultural and historic importance fascinates tourists of all ages. Nonetheless, the mention of the age-old history with its connection to India is one of the intriguing things which will enrich you all the way. Not to forget, the country is sprawled with the best eateries and luxurious stays, which provides a complete package within your budget.

Duration- Found yourself and explore the place for at least a week.

Budget- Anywhere in between 60,000 INR to 80,000 INR

Places to visit- Sri Lanka is one of the best honeymoon destinations with an affordable budget outside India. However, the land also has a similar culture to that of the South Indian subcontinent, which makes it even more exciting. A sense of flying back to home while staying in an exotic land. Travel anytime between December and April and witness the country at its best. Whether it is simply strolling on the beaches of Sri Lanka or taking an escapade to the rainforests, Sri Lanka is one of those countries to explore in and out. Let's start with Anuradhapura, the site where the ruins of Sri Lanka are celebrated. The place is dotted with Sri Lanka's cultural heritage and the seat of multiple historical places. Beach destinations like Bentota, Mirissa, Pigeon Island etc. are quite a treat. If you want to find yourself in water sports, Kirinda and Midigama should be your gateways. Polonnaruwa is an important place in Sri Lanka, a UNESCO heritage site which will entice you with all its history.

Honeymoon Theme –
Cultural
Historical
Adventurous
3. Malaysia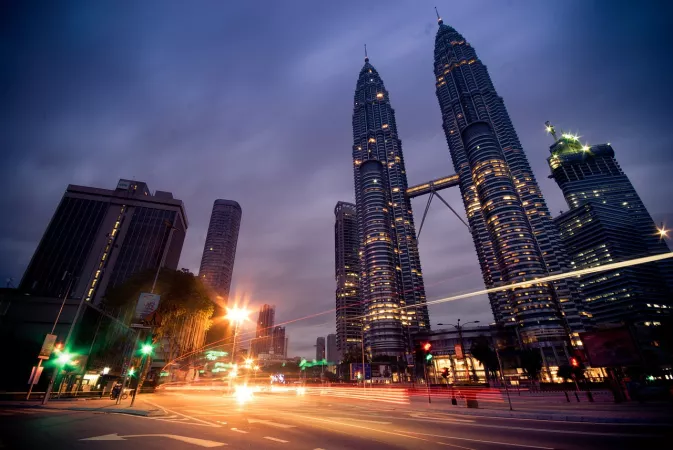 One of the popular honeymoon destinations for Indians is Malaysia. The reason is simple: the location provides beaches, culture, delicious cuisine, and an overall relaxing environment, which ticks the boxes for nearly every enthusiast. Without further ado, let's get to the details for you to make the perfect choice in selecting your destinations.

Duration- A luxurious week would be fine

Budget- Anywhere in between 70,000 INR to 90,000 INR

Places to visit- Malaysia is a romantic escapade due to its natural reserve, tropical setting, and, undoubtedly, its hospitability. The location will undoubtedly nourish your mind before embarking on a new chapter in your life.From July to mid-September is the ideal period to travel to this tropical land. Tioman Island, Pangkor Island, Kapas Island, and Redang Island are some of the islands in Malaysia that personify beauty on every segment that will make your honeymoon an absolute dream. On the other hand, if you want to experience a tranquil stay, Cameron Highland is an ideal spot surrounded by farmlands of tea plantations and strawberries, which are things to explore. If you want to explore non-cliché, Sabah River Safari is the best thing to do for a perfect wildlife safari and to be immersed in nature's beauty. Malacca is one of the offbeat places in Malaysia that gives a mixed cultural heritage of Dutch, British, Portuguese, and Malaysian culture.

Honeymoon Theme -
Relaxing,
Luxurious
Romantic
4. Bhutan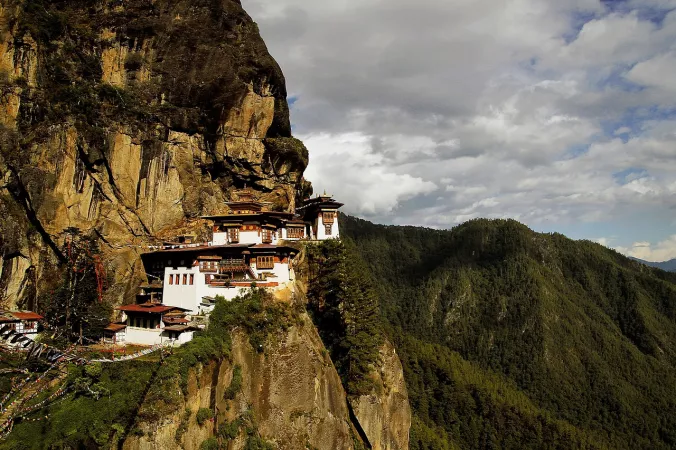 Just some mile away from India, the place reflects a similar taste of East India with a jinx of its own culture. Bhutan is described one of the quaintest places ever. Considered one of the happiest places where the country's growth is measured by the index of happiness. Well, that is a thing to learn and start your life with this broad intellectuality. The culture and its heritage are one of the most interesting thing you will notice here in Bhutan.

Duration- 5 to 6 days should do the deal

Budget- Anywhere in between 70,000 INR to 90,000 INR

Places to visit- Without much description, let's get down to business. Thimpu, the capital of Bhutan, is one of the places to travel to. Either it be the food or the way the city operates is quite interesting. The city has a strict no-honking policy and no loitering, which is definitely a good way to instill. Motithang Takin Preserve, National Memorial Chorten, Tashichho Dzong, Simtoka Dzong, Dechen Phodrang, Dordenma Statue, Chri Monastery, Tango Monastery, etc. are some of the iconic places. Tourists may be lucky enough to get a glimpse of the King playing in his own land. Paro is yet another beautiful valley in Bhutan. Trekking to Tiger's Nest monastery is one of the most exciting things to witness and see nature in its absolute true form. Trongsa village is yet another beautiful spot to explore. Punakha is, yet again, one of the most visited places due to its beautiful setting and its unique architecture all around.

Honeymoon Theme –
Adventorous
Rejuvenating
Relaxing
5. Philippines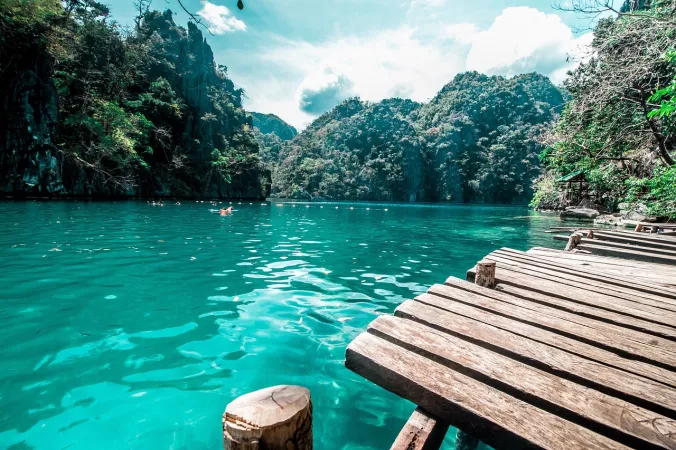 By far the most beautiful of the bunch. The pristine beaches, stretching coastline and natural scenarios are the best ways to describe this offbeat location. Surrounded by turquoise water, this hamlet in Southeast Asia is a honeymooner's paradise on the best budget. The Philippines is a picture-perfect place that one can afford.
Duration- A week will do.
Budget- Anywhere in between 80,000 INR to 1 lac
Places to visit- What more intrigues you that the Philippines is one of the isolated retreats within your budget? Isn't that fascinating? Well, it surely does. December to February is the ideal time to visit the place, and you must pack your bags then.
Not to mention, the country provides the utmost privacy for the Honeymooners and the people are absolutely cordial, which you will ever require to travel to an unknown land. Islands like Palawan Island, Boracay Island, Bohol Island, and Virgin Islands should be on your itinerary to experience the surreal and absolutely romantic gateways in the Philippines.
Coron on the other hand, preserves a soft spot and is often connoted as the gemstone of the Philippines due to its private surroundings, impenetrable vegetation, and beautiful landmasses. Elefante Island is one of the places where you will never get bored with its absolutely gorgeous scenery, accompanied by delicacies and stay, which is all you need for a perfect honeymoon.
Honeymoon Type –
Romantic
Luxurious
Adventurous

Best places to visit in India by month
Explore best popular
Tour Packages